SEO Search Engine Optimization
DCWireNet will always offer the most professional IT outsourcing services, using the most efficient, latest technologies with the full knowledge and understanding of our client's business needs.
SEO Search Engine Optimization
Having an impressive website is a good start.
If no one knows your website exists, no one will benefit from what makes your website impressive. More importantly, you will not generate business from your website unless potential customers know how to find you. DCWireNet can help you.
Search Engine Optimization (SEO) is defined as the process of maximizing the number of visitors to a website by ensuring that the site remains high on the list of results returned by a search engine. Search engines, Google, Yahoo Bing, etc. display their results according to well defined and structured algorithms. Although the algorithms are a 'trade secret', a well defined science has sprung up that has discovered what key words in which significant placement will determine which listing appears first. DCWireNet has studied this science and we know how to design or change your website to maximize your SEO results.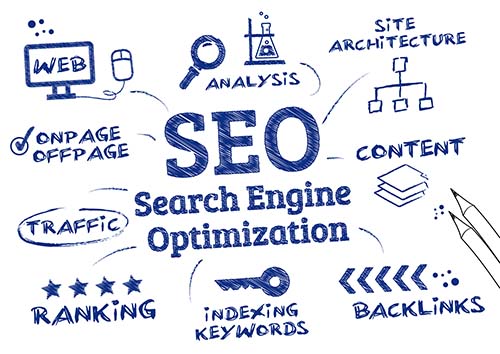 DCWireNet has a proven track record.
DCWireNet has a proven track record in the Search Engine Optimization and in increasing the leads our clients enjoy from their websites. We all search the Web every day, but studies have proven that a great majority of us do not search past the first page of results. The word Google has become synonymous with searching the World Wide Web and but it is not the only search engine. DCWireNet can get your website on the first page of all search engines.
Making certain that your company is on that first results page is critical for your company's Internet marketing and sales success. Contact us and tell us that you want to be on the first page and DCWireNet will get you there.
What is Search Engine Optimization (SEO)?
Search Engine Optimization (SEO) is a digital marketing strategy aimed at increasing the visibility, ranking and overall organic traffic of a website through various optimization techniques. The goal of SEO is to help search engines understand and present content in a way that is most relevant to users. By optimizing a website for search engines, it becomes more likely that people will find the site when they perform a search.  Continue Reading…
Ready to get a best solution for your business?
DCWireNet IT Support & Service will make certain that your system is working perfectly and provide you with performance and service reports